101+ Cute & Unique Girl Dog Names for Puppies in 2023 | Pupford
Filed under Pet Parenting
Naming your puppy has to be one of the most enjoyable parts of getting a new furry friend! That's why we are breaking down the 101+ most unique girl dog names!
Your new companion, no matter the breed, deserves a name that is just as cute, energetic, and sweet as the doggo herself.
(Check out the quick-reference image with all 101+ girl dog names at the bottom of the page. )
We've built out this list of the top 101+ female dog names from our own personal experience, through browsing thousands of , and of course, via some pop culture inspiration. (If you have a boy pup, check out our list of .)
Here are over 101 cute and unique dog names for girls:
Adventure

Agatha

Angel

Annie

Athena

Baby

Bella

Beta

Betty

Bev

Beyonce

Blossom

Boots

Candle

Caramel

Cardi

Cher

Coco

Copper

Crunch

Deb

Delta

Dixie

Doris

Earhart

Edna

Emma

Fairy

Farrah

Faunice

Florence

Fonda

Gamma

Gertrude

Gladys

Happy

Harrah

Harriet

Heaven

Hula

Hungry

Indie

Indigo

Ingrid

Inky

Ivie

Jade

Jelly

Joan of Arc

Joy

Juno

Jupiter

Kardashian

Kazoo

Kenna

Kimchi

Krafty

Legend

Lemon

Lizzo

Lola

Maple

Martha

Milky

Mom

Moana

Nickel

Noodle

Norah

Olivia

Odessa

Olga

Oprah

Orange

Paz

Paris

Piña

Purdy

Queeny

Quinn

Rach

Ruby

Roxanne

Sassy

Shadow

Sierra

Sugar

Sunny

Sushi

Tahoe

Tesla

Uli

Umbrella

Venus

Vor

Wanda

Whoopie

Xeno

Yara

Young Lady

Yucca

Zelda

Zion

Zip

Zoe
🐶 No matter what girl dog name you decide on, make sure to start off on the right paw with our 100% free New Dog Starter Course! It covers puppy-prepping your home, shopping checklists, what to do in the first 24 hours, and more. 

 🐶
Now, a more in-depth look. ⤵️
GIRL DOG NAMES THAT START WITH A
Annie
Is your puppy a red-headed orphan? Or, maybe your floof just loves ripping up stuffed animals that look like Annie?
Yes girl, the sun will come out tomorrow. ☀
Agatha
The name literally means "good" in the Ancient Greek language. 
"What a good girl!"
Angel
Only if your little fluffy pet really is the sweetest one out there.
But, that's every doggo right?
Athena
The goddess of wisdom and warfare which happens to sound like most pups trying to escape from the backyard.
Adventure
Do you own a Subaru and frequently visit ? Did you recently use the hashtag #wanderlust on Instagram? This is the female name for your little one!
GIRL DOG NAMES THAT START WITH B
Betty
The perfect name for the dainty, well-mannered, and sometimes sassy puppy in your life. Strangely enough, that also sounds like my Grandma… whose name is also Betty...
Bev
Any Roseanne fans in the house? Also, short for beverage. Water is a beverage.
Baby
Because you're gonna treat her just like one anyway, right?
Bella
"Vampires play baseball?"
The ultimate name for all those vampire-loving--boy-confused canines. Those do exist.
Blossom
I've never met a Blossom who wasn't a sweet pup!
Boots
NOT just for cats.
I've also heard rumors that puppers named Boots often learn to speak (and dance) like Antonio Banderas.
Beta
To every Alpha, there is a Beta.
Personally love this one for large breeds.
Beyonce
Tell him 'boy, bye. And all the dogs, hi.
Pupford remix drops soon.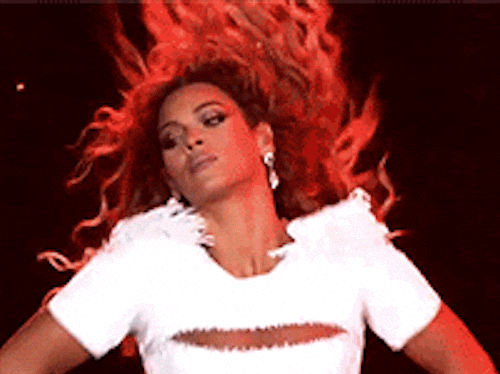 GIRL DOG NAMES THAT START WITH C
Candle
Not just a scented wax piece on your coffee table, it's the ideal puppy name because each four-legged friend has its own scent.
Why else would they sniff each other's butts all the time?
Caramel
Sweet and sticky. The constant state of 99% of all puppies.
Cardi
For every dog whose will be; "okurrrrr", "wooooooord", and "what's good?".
Coco
I asked my 2-year-old niece what we should name our puppy. Can you guess her favorite movie? 
Copper
I envision a very rugged, outdoorsy, and loyal female floof, especially a golden retriever. Weekend camping trips here we come!
Cher
You can also nickname her the Goddess of Pups. I also instantly think of terrier breeds for this one.
Crunch
If you've ever dealt with then you'll know how accurate this name might be.
GIRL DOG NAMES THAT START WITH
D
Doris
If yours is actually the best Labradoodle on the planet, Doris is the only name allowed. *
*Disclaimer. An owner of Pupford (and his Labradoodle named Doris) may or may not endorse this message wholeheartedly.
Deb
For the female fluff ball that loves glamour shots more than food. Reminds me of our employee picture day here at Pupford.
Dixie
If you are from the South, I believe you are all but required to don your new puppy with this sweet name.
Delta
Bags of dog food do not fly free anymore. Your pet doesn't either. Sigh.
GIRL DOG NAMES THAT START WITH E
Emma
Does your doggo actively support female dog rights all while casting spells on the neighbor's muggle pups?
"It's LeviOsa, not LeviosA".
Earhart
Not all K9s are , but if yours is… ✈
Edna

Remember the lady from The Incredibles?! NO CAPES!
But a puppy in a cape is too precious…
GIRL DOG NAMES THAT START WITH
F
Fonda
Everyone needs some low-impact cardio, right? 80's hair not included.
Fairy
A pooch that's a fairy? I wish.
Faunice
The name in reverse order is Ecinuaf. A random rearrangement of the letters in your name (anagram) will give Uceifna.
How do you pronounce that?
Farrah
Florence
Look, the . They are never over.
G
IRL DOG NAMES THAT START WITH
G
Gertrude
Adopting an older "granny" terrier or poodle? The name Gertrude can't be beaten! Just make sure she can spend time with Penelope and Betty.
Gamma
From 1880 to 2016 less than 5 people (humans that is) per year have been born with the first name Gamma. Hoorah! That'll be a unique puppy for sure.
Gladys
You can also nickname her the .
Perfect for any breed!
G
IRL DOG NAMES THAT START WITH
H
Heaven
Where all dogs go, and come from, of course!
Harriet
Although your new furball may not write , she can still carry on the legendary name. Boston terrier loves, this one might be best for you.
Harrah
More famously known for the hotel in Las Vegas, maybe your pupper will learn how to count cards and make you millions! 
Hungry
We all know that one doggy, begging for treats right after she scarfed down a giant bowl of food. Stay hungry my friends.
Happy
Because puppy smiles can cure almost any level of sadness!
Hula
Alohaaaaaaaa! If you live in Hawaii, I think it's almost required for you to name your little pupper Hula. I see an Instagram celebrity in the making.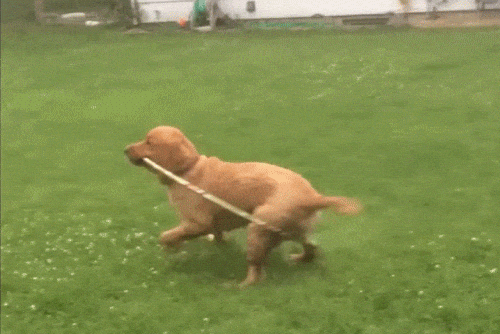 G
IRL DOG NAMES THAT START WITH
I
Indigo
Do you have a blue pooch?
Well, you probably have bigger problems than worrying about her name!
Indigo it is!
Indie
Are your doggo's favorite bands Arcade Fire, The Shins & Modest Mouse? I believe Bob Dylan would be proud.
Ingrid
Have you ever met an Ingrid who wasn't a kind soul to everyone? What breed do you think of?!
Inky
For the love of ! Nomnomnom
Ivie
Because who doesn't want to be a name inspired by a comic villain? Or an annoying plant that never seems to stop growing?
Jokes aside, it has an excellent ring to it for a puppy's name!
🐶 No matter what girl dog name you decide on, make sure to start off on the right paw with our 100% free New Dog Starter Course! It covers puppy-prepping your home, shopping checklists, what to do in the first 24 hours, and more. 

 🐶
G
IRL DOG NAMES THAT START WITH
J
Jupiter
Is your floof bigger than you?!
Jupiter is a fitting name for all those behemoth doggos out there!
Joan of Arc
Fearless female woofers deserve an equally fitting fearless name. Especially fitting for any bull terrier breeds.
"I am not afraid... I was born to do this."
Joy
If your pupperino meets any of the following criteria, consider the name Joy:
-constant face licker
-exceptional cuddler
-all-around bundle of… joy 
Jelly
Why haven't I thought of this before for a peanut butter loving pointer?
Imagine the peanut butter and… jelly pictures! 
Jade
Often referred to as the ultimate 'Dream Stone", this name is practical for all those spiritual and meditative fluffers.
Juno
Super sassy, kind of awkward, completely cute for a good doggo. I can think of a handful of female Yorkshire Terriers who fall into that description superbly.
G
IRL DOG NAMES THAT START WITH
K
Kimchi
Who would have thought this Korean dish could be such a lovely pupper name?! Trust us, this name is not exclusive to Asian breeds!
Kenna
In the Scottish language, it means being born of fire!
Does this relate to why doggos love fire hydrants? Probably.
Kardashian 
If you have dreams of your puppy becoming Instagram famous, there's no better place to start than with a name like Kardashian.
Kazoo
By far the most underrated and unappreciated of instruments. Your quirky pet floof is a great fit for this name!
Krafty
Because Etsy loving 'krafty' folk need a woofer with a name that matches their passions.
G
IRL DOG NAMES THAT START WITH
L
Lemon
When life gives you lemons, name your little doggy after that citrus fruit ()!
Lizzo
Does this one really need an explanation? 💃 🎼
Lola
Lola means "Grandmother" in Filipino, making this name a perfect fit for your somewhat elderly potentially slow-moving doggy.
Legend
"Remember kid, there's heroes and there's legends; heroes get remembered, but legends never die. Follow your heart, kid, and you'll never go wrong.
Read the new , 21 items you need for your new pup!
G
IRL DOG NAMES THAT START WITH
M
Maple
For all of our Canadian breed lovers. This name will surely foster a super sweet and docile temperament. 
Martha
Does your little fluff ball love to lie about stock sales? I mean… whip up delicious meals and decorating your living room. #freemartha
Moana
Truly one of the most badass Disney princesses ever. Ideal for your water-loving floof.
The line where the sky meets the sea? It calls me
And no one knows, how far it goes
Mom
My Wife: "Who ate the food off the counter?"
Me: "Your mom!"
Milky
Inspired by the Milky Way… constellation and/or candy bar?
G
IRL DOG NAMES THAT START WITH
N
Norah
I mean who hasn't cried while listening to a Norah Jones song? Calling all deep-thinking and emotionally connected puppers.
Noodle
Perfect for that lurpy doggo who can't seem to stand upright, let alone play fetch without tripping over its own paws!
Nickel
"If I had a nickel for every time I was told to sit…"
G
IRL DOG NAMES THAT START WITH
O
Oprah
"You get a treat! And YOU get a treat! EVERYONE gets a treat!"
Olivia
For every female pupper that's truly in charge. Oh come on, you must know who is!!
Olga
Olga is always up for a cuddle, and eating all the puppy treats in the close vicinity.
Orange
Does your breed's fur resemble that of a (hey, that's not a bad name either)? Double points if you live in Florida.
Odessa
Not only does it make people think of Texas, but it has some amazing nicknames. Dessa, Odie, Essie, Dess, Ode, Otis. It's like 7 nicknames in 1!
G
IRL DOG NAMES THAT START WITH
P
Paris
Is your female pupper gonna travel the world with you? (Proably a tea-cup breed, huh?) Nothing says travel quite like the name Paris, or maybe it reminds of that time when Paris Hilton was actually popular in the early 2000's.
Let's stick with the city.
Piña
For all of you who didn't pass middle school Spanish, Piña means Pineapple.
You know, that tasty tropical fruit often made into delicious Piña Coladas. Perfect for those #islandvibes doggos!
Purdy
Ain't she purdy?
Paz
Paz means golden in Hebrew & peace in Spanish. Combine the two meanings and it equates to a perfect name for a sweet and loving Golden Retriever.
G
IRL DOG NAMES THAT START WITH
Q
Quinn
For all those DC lovers out there! A fitting name for a spunky and tenacious sidekick pup!
Queeny
Have a pet with a royal bloodline? I don't think there is a cuter female name out there!
G
IRL DOG NAMES THAT START WITH
R
Roxanne
Who didn't love The Police? This name bodes some awesome nicknames like Roxy and Anne!
Rach (Or Rachel)
Are you the ultimate Friends fan?
I'll be there for you!
Ruby
Is your fluffer worth millions to you? Or maybe she just loves The Wizard of Oz.
Perfection in a name!
G
IRL DOG NAMES THAT START WITH
S
Sugar
Sugar, spice, and everything nice? I just described every female pupper on the planet.
Sassy
If my two little Yellow Labs could talk, I think I would likely change their names to Sassy.
At least their cuteness outweighs their sassiness, sometimes.
Sierra
Does your doggo crave mountain hikes and plunging into lakes? Also, if you own a GMC Sierra how could you pass this name up?
Sunny
For all the spring & yellow pups out there.
Sushi
For a thicc doggo with rolls on rolls on rolls.
Shadow
Does your little one follow you everywhere you go? This one is for your literal shadow… the one who follows you into the bathroom. Every. Single. Time.
GIRL DOG NAMES THAT START WITH
T
Tahoe
Crystal clear lakes, breathtaking mountain views, and a rugged pupper almost everywhere you turn, this city name doubles perfectly for a mountainous adventure pupper.
Tesla
Because if you have one, your doggo could drive it with auto-pilot mode!
That is the future right there.
G
IRL DOG NAMES THAT START WITH
U
Umbrella
Ella, ella, eh, eh, eh!
If rain = sadness and umbrellas block the rain, then puppies really are sadness blockers.
Uli
Means noble leader in German. Every pack has a leader!
G
IRL DOG NAMES THAT START WITH
V
Vor
It literally means universal ruler. Does your pet have superpowers?
Venus
Whether you love the planet or the all-time great tennis player, this a super cute name for your female pupper!
G
IRL DOG NAMES THAT START WITH
W
Whoopie
Everyone loves a little Goldberg, right? I'm looking at you Scottish Terrier.
Wanda
Did you grow up loving the ? Continue that love with the name Wanda.
G
IRL DOG NAMES THAT START WITH
X
Xeno
I can almost guarantee you won't hear anyone else calling their doggo, Xeno at the .
G
IRL DOG NAMES THAT START WITH
Y
Yara
A name derived from a female Brazilian goddess with green hair and fair skin. Kind of odd, but mostly awesome. Perfect for any Shih Tzus or Schnauzers.
Yucca
Are you a plant lover (if so check out )? Maybe it's the only thing you have more of in your house than pupperinos. Another unique name perfect for every green thumb out there.
Young Lady
"You watch your tone young lady!"
Look, 'Young Lady' doesn't have to be related only to scolding, it can be a nice name for a sweet little doggo too.
G
IRL DOG NAMES THAT START WITH
Z
Zion
Zion is a beautiful national park in Southern Utah. Gorgeous hikes, astounding views, and plenty of wildlife.
This might be one of the most unique girl dog names we've got...
Zelda
Ah, Zelda. Really takes me back to a simpler time in the video game world. Plus, a killer name for any badass female floof.
Zoe
I instantly think of a cute little floofer being carried around in a purse? But don't limit it to just that!
Zip
Can't keep up with your little pup?
Does she have more energy than a budding toddler? Zip it is!
RECAP OF UNIQUE DOG NAMES FOR GIRL PUPPIES (OR ADULT DOGS)
Still can't decide on a name for your female pup? Try combining two unique girl dog names for an even more special title for your four-legged friend.
Queen Orange anyone? Sounds like Beyonce's next album to us…
And while you're here, be sure to take the
No matter what girl dog name you decide on, make sure to start off on the right paw with our 100% free New Dog Starter Course! It covers puppy-prepping your home, shopping checklists, what to do in the first 24 hours, and more.
Tell us some of your other favorite unique girl dog names in the comments below.
🐶 Don't miss out, sign up for the 100% free New Dog Starter Course (you can sign up even if you don't have a pup yet). 

 🐶